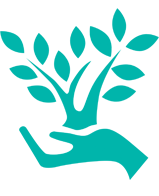 California palm tree
Washingtonia filifera
This palm tree received this generic name in honour of George Washington. And its specific name, filifera, of Latin "filium", thread, and "fero", carrier, in reference to long fibres that start from the lower base of the segments of the palm.
It has a thick trunk of greyish colour, smooth and ringed, with the top part or sometimes all of it, covered with withered leaves that can reach up to 18 m high.
The leaves have long petioles and are placed in the form of a fan and measure up to 1.5 m in diameter, consisting of up to 80 segments. The inflorescences of 3-5m are branched and pendulous, sprouting from the axils of the lower leaves, the flowers being white and small. The fruits are ovoid, small, and blackish with a slightly crushed seed.
It is native to the southwest of the United States and northwest of Mexico.
The tree has rapid growth, reproduces well from the seed and allows for easy transplants. It is a rustic species and undemanding in terms of soil, though it prefers warm coastal areas, resisting the cold more so than other species (up to -10 degrees centigrade).
This tree is used in gardening as an ornamental plant in parks and in linear plantations. The oldest specimens can be seen in the gardens of Genovés Park, Alameda de Apodaca, Plaza de España, Plaza de Mina and Parque de los Cinco Continentes.
Washingtonia fillifera 
(Lindl)
Arecaceae Family (Palmae)