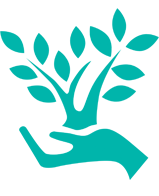 White Bird of Paradise
Strelitzia alba
The name of the genus Strelitzia, to which this plant belongs, was given in honour of Queen Charlotte of Mecklenburg-Strelitz, wife of George III of England, who died in 1818, to whom another plant of the same genus, of smaller size, was dedicated. Also native to South Africa is the Strelitzia reginae (Bird of Paradise).
A herbaceous plant of arboreal bearing, with multiple stems, produced by tillering, which can reach up to 10m. in height forming lignified trunks and wrapped by the leaf sheaths. The leaves have a petiole of 2m and a blade of 1m which are intact at the beginning but become shredded with age. The flowers are completely white and have bright blue petal-shaped petals wrapped in a dark reddish spathe with a horizontal shape; the position of the sexual organs of their flowers is an adaptation to ensure zoophilic pollination (by means of a bird. The fruit is a woody capsule, splitting into three lobes to reveal black seeds which are round and solid.
In pollination, a small bird called the bird of the sun intervenes, which perches to get the nectar and pollen which impregnate the breast feathers, transporting it to another flower.
Furthermore, some very similar genera belong to this family, with edible fruits, such as banana trees (Musa paradisiaca).
The best examples feature in Cadiz and can be seen in Genoves Park, Plaza de España, Alameda de Apodaca, and Paseo de Canalejas.
Strelitzia alba
(L.) Skeels
Strelitzia augusta
Thunb.
Musaceae Familiy