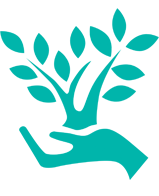 Norfolk Island Hibiscus
Lagunaria partenosia
Lagunaria is a monotypic genus of flowering plants belonging to the Malvaceae family. Its only species: Lagunaria patersonii is native to Australia, where it is endemic to Lord Howe Island, Norfolk Island and parts of the Queensland coast. It has been introduced in many parts of the world.
Etymology:
Lagunaria: generic name that was named in honour of Laguna, a Spanish botanist and doctor of Pope Julius III.
Patersonii : epithet named in honour of Colonel W. Paterson who was the first to send the seeds to England.
It is an evergreen tree of medium size and has a pyramidal crown which is dense and light green, which can reach 10-14 m in height. The bark, when adult, is greyish and ridged longitudinally. Leaves are oblong to broadly lanceolate, with an entire dark green edge in the upper part, covered with whitish short hairs on the underside. The flowers are axillary, solitary and a pink colour, appearing in the months of June to August. The fruits are capsular, have an elongated shape, and are dry and dehiscent in their ripened stage. Inside, they contain hairs that cause irritation between the seeds, so you should be careful with them.
At present, there is a single species of Lagunaria patersonii, commonly known as the Norfolk Island Hibiscus or the Primrose tree. It is not a true Hibiscus, but they belong to the same family of plants, Malvaceae. Its seeds are capsules full of hairs that cause irritation.
In many parts of Australia, Lagunaria is considered a pest, and is commonly referred to as the "Itchy Bomb Tree" or "Cow Itch Tree", due to the small, almost invisible hairs, which are found inside the seed pods and which, if the pods of seeds open, can lodge like small spikes of broken glass in the skin, causing great pain.
Lagunaria patersonia  
(Andrews) G.Don.
Malvaceae Family