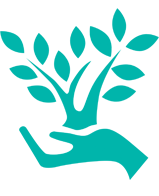 Jacaranda
Jacaranda mimosifolia
Origin: Brazil, Paraguay and northern Argentina.
The name of the genus derives from the original name that was given to this plant in Brazil. It was introduced in Spain on the occasion of the Ibero-American Exhibition of Seville, in 1929.
Deciduous tree, fast growing, spherical crown. 6 to 10 m in height and 4 to 6 m of diameter in the crown. It can exceed 25 m. The bipinnate leaves fall at the end of winter, which measure from 15 to 30 cm. long, with 16 or more pairs that each carry 12 to 24 pairs of oblong leaflets, one centimetre long and grey-green in colour.
The flowers are gathered in spikes and are blue or bluish-purple that are 5 cm long. They gather in clusters at the end of the branches, which measure up to 25 cm. They cover the whole tree. Flowering occurs in Spring. There may be a second flowering in early Autumn. Its fruits grow in dark brown, flat, woody capsules and the seeds are winged at the end of Autumn. The wood is used in joinery and carpentry.
It requires a mild climate, tolerates weak and sporadic frosts, lives better in the vicinity of the coast, although it should be sheltered from strong sea winds. It is resistant to limestone and pollution but not to salt, it prefers clay-sand soils that maintain humidity. It blooms abundantly in sunny exposure. It spreads easily by seeds.
There are examples in Genovés Park, Plaza de Mina, Paseo de Carlos III, Alameda Marqués de Comillas and María Auxiliadora Street.
Jacaranda mimosifolia
D.Don
Jacaranda ovalifolia
R.Br.
Jacaranda acutifolia
Humb. & Bonpl.
Bignoniaceae Family