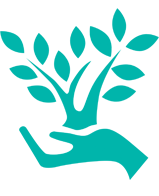 Orchid tree / Mountain-Ebony
Bahuinia Variegata
Native of China, India, Nepal, Thailand and Vietnam. It is also cultivated in tropical and subtropical climates, having naturalised in some places of the Caribbean.
The genre honours the memory of brothers Johann Bauhin and Caspar Bauhin (1540-1613), both famous botanists and Swiss doctors. The specific epithet comes from Latin and refers to variegated (with several colours), because the flowers usually have at least one of the petals marked with another colour.
A deciduous tree 6 to 10 metres high, with a rounded crown. The leaves are alternate and have the same shape as a cow´s hoof. The flowers are grouped in inflorescences on the old wood, in short clusters and with only a few in bloom. The flowers are white and pink.
It is used for ornamental purposes due to its flowers, since they bloom in abundance after only 2 or 3 years. It has relatively fast growth and prefers a temperate-warm climate since it does not withstand frost. The leaves are good feed for livestock and their wood is moderately hard and is used in the manufacture of tools.
Bahuinia Variegata 
Linneo
Caesalpiniaceae Family